A hamstring injury is a strain or tear to the tendons or large muscles at the back of the thigh.

It's a common injury in athletes and can happen in different severities. The 3 grades of hamstring injury are:

grade 1 – a mild muscle pull or strain
grade 2 – a partial muscle tear
grade 3 – a complete muscle tear

The length of time it takes to recover from a hamstring strain or tear will depend on how severe the injury is.

During the first 2 or 3 days, you should care for your injury using RICE therapy:

Rest – rest your leg as much as possible.
Ice – apply cold packs (a bag of frozen peas wrapped in a tea towel will also work) to your hamstring for up to 20 minutes every 2 to 3 hours during the day. Do not apply ice directly to your skin.
Compression – compress or bandage the thigh to limit any swelling and movement that could cause further damage. You can use a simple elastic bandage or elasticated tubular bandage available from a pharmacy.
Elevation – keep your leg raised and supported on a pillow as much as possible, to help reduce any swelling.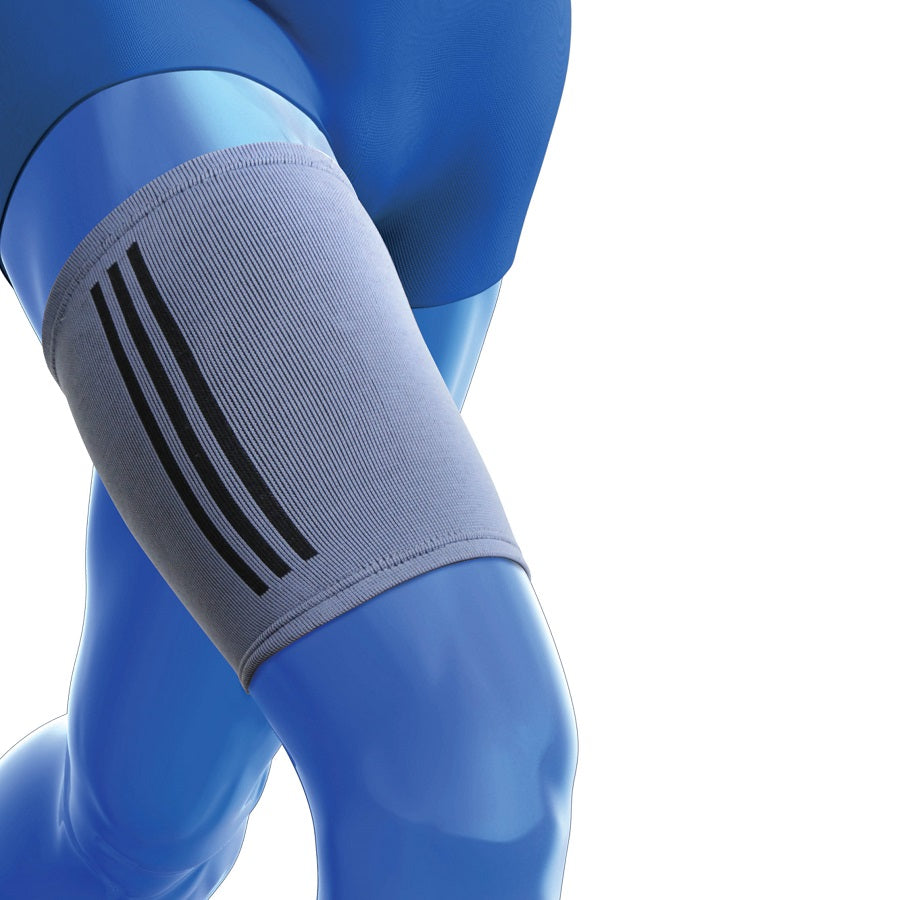 Active Elasticated Thigh Support
Regular price
Sale price
£6.49 GBP
Unit price
per
Sale
Sold out
Additional info
Size: Small/Medium (KED015), Medium/Large (KED017) (Click Size Guide for More Information)
Fits Left and Right Thighs.
For Support and compression around the thigh. Intended uses can include but are not limited to mild pulled hamstring, quadriceps, groin strains, swelling/inflammation, bruising and sore muscles.
The Active Elasticated Thigh Support is a Mild level support for everyday and sporting use. The four-way stretch design provides uniform compression around affected areas. The breathable knit ensures that the skin stays dry but warm.
Instructions for use 
1. Select correct size from size chart.
2. Fold over the top of the support and slide over appropriate foot.
3. Slide up past the knee and over the thigh.
4. Support should fit tightly but it should not restrict circulation.
Share
View full details